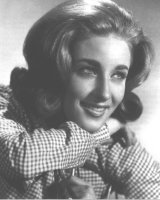 Lesley Gore is perhaps best known for her first huge hit, "It's My Party", which was also her first recording. That track and the follow-up single "Judy's Turn To Cry" might have given her a bratty teenage image ("It's My Party" was used to hilarious effect in Dennis The Menace), which is pretty unfair as some of her later releases were a lot more mature. Take "You Don't Own Me" for instance, which lyrically, with
its strong feminist undertones, is quite advance for its time.
"Just Let Me Cry"
was the B-side of "Judy's Turn To Cry", released 21st June, 1963.