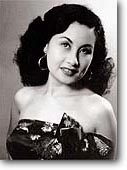 If you like lounge-y jazz music, you ought to check out some of the artistes from the 1930s Shanghai jazz scene. Shanghai in the 1930s was known as the Paris of the East - the cabaret and jazz centre of Asia.
Bai Guang was one of the greatest singers during that period, and also starred in numerous Hong Kong and Chinese movies before retiring in the 1950s.
Bai Guang - Deng Zhe Ni Hui Lai
(Waiting for you to return).